Ranikhet to Chopta
Ranikhet is one of the most beautiful and popular hill stations which is situated in the Almora district of the Kumaon region of Uttarakhand State. It is the home for the Kumaon regiment and Naga regiment. It is maintained by the Indian Army. Ranikhet is well connected with the motorable roads. You can easily reach Ranikhet by bus, cabs or by using your vehicle.
Chopta from Ranikhet By Road
Chopta has connected with the road but it does not have railway tracks or airports. So you reach there only by using the road from Ranikhet.
By Taxi / Self Drive: You can hire a taxi to reach Chopta from Ranikhet or you also can drive your own car to travel to Chopta. You can check car rental in Ranikhet and Chopta cab services.
Road Route 1: From Ranikhet To Chopta (215 kms)
Route:- Ranikhet – Dwarahat – Chaukhutiya – Karanaprayag – Nandaprayag – Gopeshwar – Chopta
Google Map Route Link:- https://goo.gl/maps/LgdAVvmYuzCPnfpY6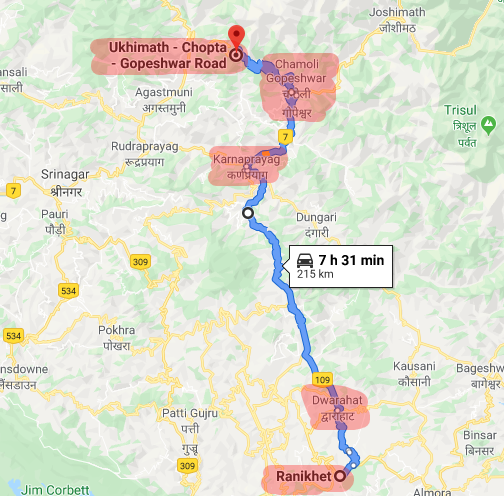 During winters due to heavy snowfall, when roads are closed you can follow the second route.
Road Route 2: From Ranikhet To Chopta (240 kms)
Route:- Ranikhet – Dwarahat – Chaukhutiya – Karanaprayag – Rudraprayag – Augustumuni – Ukhimath – Chopta
Google Map Route Link:- https://goo.gl/maps/TzwVFhotVGAS62NUA